So, where does the modern end and the contemporary begin? Many an afternoon has been spent discussing and debating this. Looking at the historical and political timeline, the end of modern India coincides with the beginning of contemporary India on the eve of India's independence in 1947. This places all events since our independence under the umbrella of Contemporary India. But the distinction within art history is not as simple.
When art critic and historian Geeta Kapur wrote When Was Modernism In Indian Art? in the 1990s, we were at the cusp of this change. She writes that "If Indian artists have often appeared to be hamstrung over the progressivist as against 'correctly' modernist definition of modernism, if they have seemed to be stuck at the crossing-over, it is not so surprising. They are living out the actual material transition." Our definition of what and when contemporary is transitional itself.
Contemporary Art is the art of today, but every passing moment cannot be termed and defined and hence to make life easier for everyone, we place it in periodic sub-sections. For Indian art, it begins in the 1980s.
This brings us to the second most asked question, what is the difference between modern and contemporary art? According to Will Gompertz, author of What Are You Looking At? it is to "question what had been accepted boundaries regarding taste and decency by producing work intended to provoke and shock." To question the existing understanding of art in as many ways as possible. The art of today has yet to be given a name, it is not a movement, and as of yet no '-isms' fit. Contextualising Indian contemporary art requires us to look at various different art schools, influences, time periods. The artists individually respond to gender, politics, social upheaval, trends and larger global psyche.
Sudipta Das, Untitled (Refugee series), Watercolour and Hanji paper. Photo courtesy: AD India and Latitude 28
2020 gave us plenty of examples, from the Black Lives Matter movement to the migrant crisis in India and abroad. Before that, were protests against the NRC and CAA bill and now its the attack on free speech, journalists and comedians alike. Artists inherently respond to the climate around them. Contemporary art does the same. One categorical difference from its modern sister is the burst of mediums and scope of expression it offers.
Shilpa Gupta, For, in your tongue, I cannot fit (sound installation with 100 speakers, microphones, printed text and metal stands). Photo courtesy: Stir World
This diversity is what makes the art of today exciting and provocative. The 1980s saw a meteoric rise of female artists who questioned the existing 'philosophy and language of Indian modernism' (Geeta Kapur, p.314) Arpita Singh, Nalini Malani, Madhvi Parekh, Nilima Sheikh, Arpita Caur, Rekha Rodwittiya and Anupam Sud were this contemporary artist who recalibrated the male-driven narrative and introduced a new sensibility within Indian art. The same decade saw the artists' groups like The Indian Radical Painters' and Sculptors' Association (1987–1989) and Seven Young Sculptors curated by Vivan Sundaram that consciously broke away from a submissive portrayal of nature and objects and showed the reality with hard-hitting honesty and diverse experiences.
Left to Right: Madhvi Parekh, Nalini Malani, Arpita Singh and Nilima Sheikh (Photo courtesy: India Art Fair)
Now artists like Sudipta Das, Shilpa Gupta, Jitish Kallat, Shakuntala Kulkarni, Sohrab Hura, Pushpamala N. and many more make us question and reevaluate the existing norms and value that we exalt. They drive the conversation in as many different directions as possible attracting our attention to the smallest of issues that exist in our society.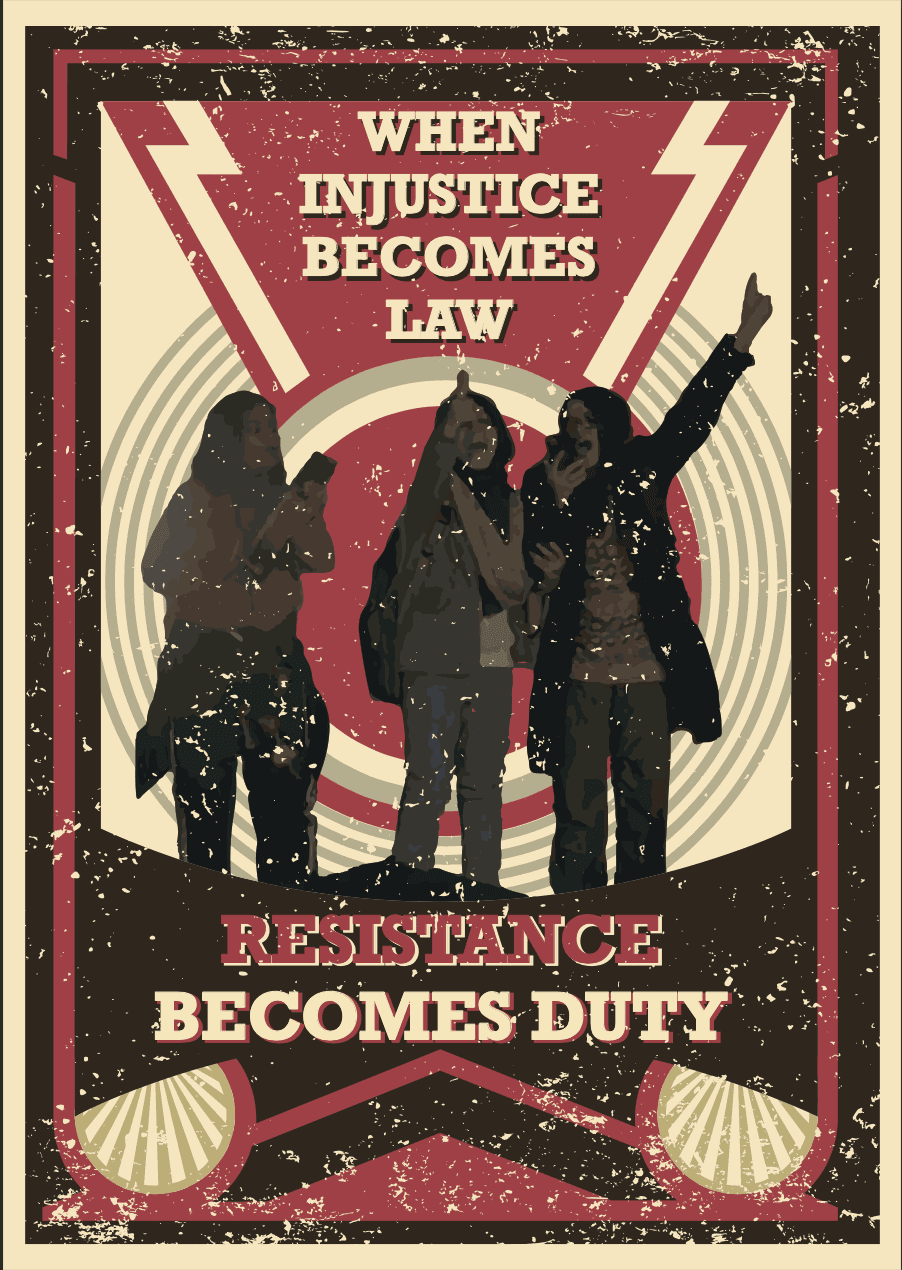 Poster against the CAA bill by Maithili Madhusudan, courtesy creativesagainstcaa.kadakcollective.com
Why do we name movements?
Humans are inherently drawn towards finding a pattern and categorising, in most cases, some time needs to pass before a movement can be named. The first man to categorise Indian art was James Mill, an official in the East India Company who published the influential The History of British India in 1817. The book was primarily written to celebrate British superiority and justify their intervention in India. He naively and simply categorised Indian art under Hindu, Muslim and British periods. These were later re-labelled as Ancient, Medieval and Colonial. With later addition of modern and contemporary art post our independence.
"Movements are more helpful for scholars, museums, and audiences attempting to understand artists of the past than they are for artists making sense of the present," remarks Alina Cohen. It further helps auction houses and art galleries to catalogue, categorise and sell these artworks. Helping your client understand the larger socio-political significance of an artwork is a sure-shot way of securing a sale. It also just makes the entire process easy.
Be it Clare Mcandrew's Art Basel report or Rachel Pownall's Tefaf's art market report, it won't be possible if these cultural economists cannot, categorise and sub categorise the art market. It is the only way to detail and predict future sales, chart out a growth pattern within the different segments of the art market and allow investors and collectors to make calculated decisions. Both Sotheby's and Christie's organise their Indian art auctions under two main categories: Indian and South Asian Modern and Contemporary Art and Indian, Himalayan and Southeast Asian art auction. Saffronart being a homegrown auction house categories their auctions between seasons and maintain a distinction between contemporary and modern art.
Through these movements and artists' groups, we understand the order of art. Ideas don't emerge in isolation and every successive seemingly 'innovative' thought comes from collective experiences and knowledge, through rejection and assimilation and by examining what's handed to us as unimpeachable.